1100 sqft house plans|Urapakkam project
✓ Customer satisfaction is our first priority

✓ High end 3D plans

✓ We never compromise in quality

✓ We provide best possible options to customer at every stage

✓ We stay on top of the construction process & ensure no delays in hand over
1100 sqft duplex house plans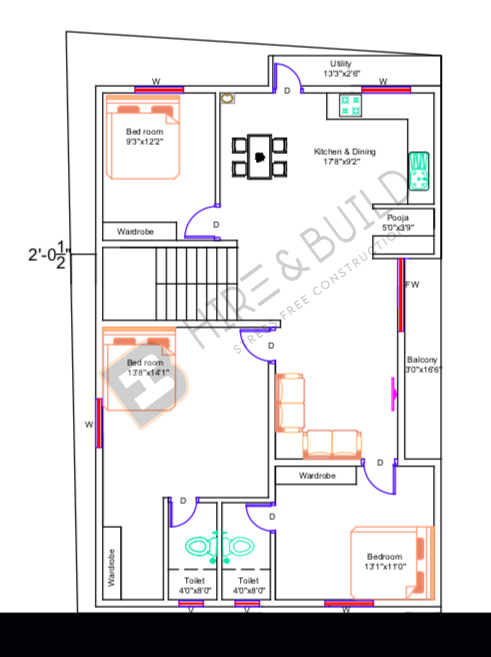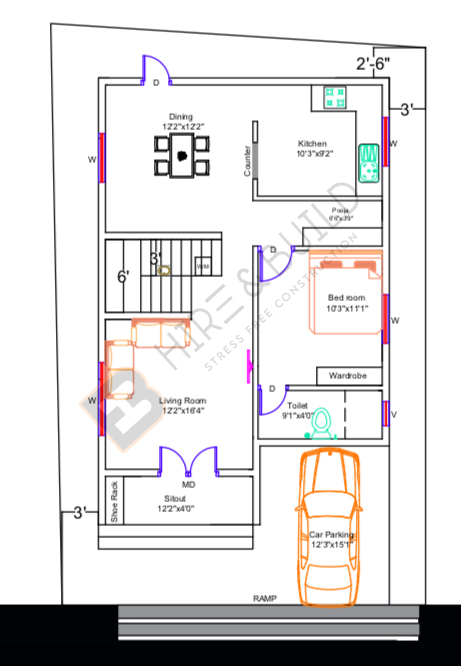 Here is a free 1100 sqft house plans which you can use to implement in your house design. This is a contemporary design. Exterior is kept very simple with a project for the window alone. The colour scheme matches with the gate of the house too.
Coming to the floor plan details, on the ground floor in the right hand side we have left car parking space and there is also a small sit out area to enjoy the evenings. On the entrance there is a  living room connected with the staircase.  Toward the right hand side we have the master bedroom which is a very spacious with an attached bathroom.
This house is for the Client's parents and there is another house built on top of this for his brother. On the end there is pooja, spacious kitchen and dining space. Overall sq.ft of this ground floor spacious house would be around 1100 sq.ft. This one is the best utilised 1100 sqft house plans which you can implement for your own house construction. On the first floor we have a very spacious living room with attached balcony. We have spacious 3 bedrooms with attached bathroom and a kitchen cum dining room too.
The overall sq.ft of this 3bhk house would be around 1300 sq.ft.We take customers requirements carefully and detailly into consideration while designing the plans. For most of us building a home would be the biggest investment of lifetime. Home is a place where everyone in family would be loving in harmony. Hence designing a floor plan should not be done in haste.
Each of the family member would have their own perspective of how the home should be. We take every family member's inputs into account and design the plan accordingly. As a customer it will be hard to visualise your requirements as a floor plan, so when we design the plan for first time it might not exactly match our requirement. We understand customer perspectives, that's why we provide multiple revisions to floor plan till you are satisfied.
A modern 3BHK house on the ground floor along with a 1 BHK house on the first floor. An individual house which makes an excellent investment property.
Turnkey House Construction
1BHK house in ground floor+ 3BHK house in first floor
700 sqft duplex house plans
This project is a combination of a 1BHK house in the ground floor and 3BHK house is on the first floor. It is located in the outskirts of Chennai situated in a calm & peaceful layout. We would call this is a perfect investment property. A house where the owners can stay on the first floor and they could rent out the unit on the ground floor generating revenue.
Not just that generating revenue we need not be alone in a house when there is another family living with us there is extra security for both of us. We have implemented the smart home technologies along with green building technologies like waste water recycling & organic terrace gardening.
There was water stagnant all over the plot and neighbouring plots due to rains. Since there is no proper drainage & canal system there was no way for the water to drain naturally.
Since there was water-logged in the plot we had to fill the plot with artificial soil for up to 2 feet. This artificial soil had kept the water from neighbouring plots to enter our plot. But it was still difficult for us to do the foundation work as the pit was getting filled with water instantly. we had to keep emptying water from the pits with motor pumps to pour concrete in the foundation.
Smart & green home built with modern architecture inside a gated community
4BHK house built in the first floor with a commercial factory built in the ground floor.
Created with heart;
built with mind