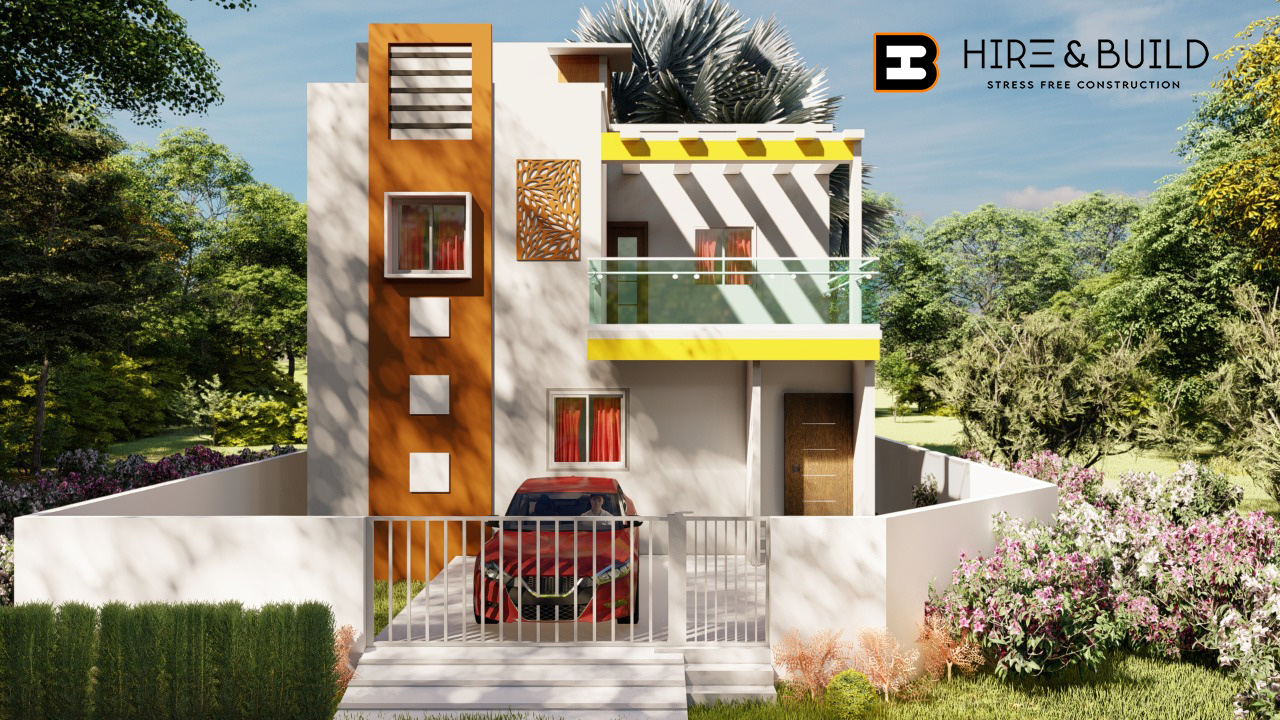 900 sq ft duplex house plans
900 sq ft duplex house plans| Vadaperumbakkam Project
✓ Customer satisfaction is our first priority

✓ High end 3D plans

✓ We never compromise in quality

✓ We provide best possible options to customer at every stage

✓ We stay on top of the construction process & ensure no delays in hand over
900 sq ft duplex house plans
Are you looking for 900 sq ft duplex house plans? Check out our up-coming project plan at Vadaperumbakkam. The exterior features a co-ordinated palette of different paint colours and glass on the balcony  which gives it a modern visual impression.  
On the ground floor we have car parking space. We have the east facing entrance for this house. While entering we have a big living space with a small space for pooja room. On the left hand side we have dining space near kitchen. Near to this we have the staircase. On the opposite side we have a bedroom with attached bathroom.
On the first floor while we have designed two bedrooms on the right hand side which is attached with bathroom. On the left hand side we have a study room and an open balcony.  If you are looking for a free 900 sq ft duplex house plans, this one will be a perfect fit. We take customers requirements carefully and details into consideration while designing the plans. 
For most of us building a home would be the biggest investment of a lifetime. A home is a place where everyone in the family would be loving in harmony. Hence designing a floor plan should not be done in haste. Each of the family member would have their own perspective of how the home should be.We take every family member's inputs into account and design the plan so.
As a customer it will be hard to see your requirements as a floor plan, so when we design the plan for first time it might not exactly match our requirement. We understand customer perspectives, that's why we give multiple revisions to floor plan till you are satisfied.
This is a 3 bedroom duplex house for a single family to comfortably live in.
900 sq ft duplex house plans
Turnkey House Construction
3BHK house on ground & 1st floor 
900 sq ft duplex house plans
This project is located in Vadaperumbakkam, Chennai. It's located inside a peaceful and well developed gated community. 
This project is a duplex bungalow for a single-family. It has a spacious hall with an open kitchen along with dining, a bedroom with an attached bathroom and a Pooja room on the ground floor. On the first floor, there are 2 bedrooms with an attached bathroom, study room, an open balcony and also a small living space. 
This house has a lot of empty space around the plot to have a garden
We have implemented smart home technologies along with green building technologies like wastewater recycling & organic gardening.
Smart & green home built with modern architecture inside a gated community
4BHK house built in the first floor with a commercial factory built in the ground floor.
900 sq ft duplex house plans
Created with heart;
built with mind