✓ Customer satisfaction is our first priority

✓ High end 3D plans

✓ We never compromise in quality

✓ We provide best possible options to customer at every stage

✓ We stay on top of the construction process & ensure no delays in hand over
A beautiful 3BHK modern villa in the middle of a green & serene gated community away from the busiest parts of city
Turnkey House Construction
Turnkey house construction, Commercial building construction, Building plan approval, 2D floor plan, 3D interior & exterior designing, soil testing, structural designing, borewell, compound wall construction, waste water recycling tank, false ceiling, interiors, modular kitchen, smart switches to control fans & lights with mobile app
This project shows modern architecture design. To make the elevation look more elegant glass roof is placed on the sit outs and natural stone are used. Check this link to see GFRG panel erection 
This is not only a sustainable house but also a smart house. It recycles its own wastewater without the usage of electricity. It has smart home appliances like video doorbell and smart switches. 
Video Door Bell: This video doorbell records video only when there is a movement nearby with its artificial intelligence.
Even when you are not at home you can check who rings the doorbell. This device automatically records the images of those who ring the doorbell and sends it to the smart phone. This provides safety and it is convenient.
Smart Switches: These smart switches allows you to control fans, lights & other appliances with smart phone itself.
This house was built using a new technology. It had it's own challenges like transportation and construction using cranes. The soil capacity also was weak, so we had to go with pile foundation
The GFRG panels were manufactured in factory and brought to site using large trucks. While bringing it to site we had disturbances with overhanging electrical lines being cut off by the panels. We had to be very careful in moving the truck. 
We take customers requirements carefully and detailly into consideration while designing the plans. For most of us building a home would be the biggest investment of lifetime. Home is a place where everyone in family would be loving in harmony. Hence designing a floor plan should not be done in haste. Each of the family member would have their own perspective of how the home should be. We take every family member's inputs into account and design the plan accordingly. As a customer it will be hard to visualise your requirements as a floor plan, so when we design the plan for first time it might not exactly match our requirement. We understand customer perspectives, that's why we provide multiple revisions to floor plan till you are satisfied.
Ground Floor

First Floor

3D interior ground floor

3D interior first floor

3D exterior view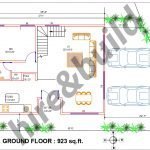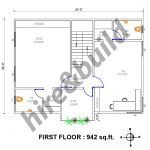 Smart & green home built with modern architecture inside a gated community
2BHK house built in the first floor along with a 1BHK house built in the ground floor.
Created with heart;
built with mind