✓ Customer satisfaction is our first priority

✓ High end 3D plans

✓ We never compromise in quality

✓ We provide best possible options to customer at every stage

✓ We stay on top of the construction process & ensure no delays in hand over
A combination of 4 BHK flat in the first floor along with a commercial factory construction in the ground floor
Turnkey House Construction
4 BHK House+Commercial Factory
Turnkey house construction, Commercial building construction, Building plan approval, 2D floor plan, 3D interior & exterior designing, soil testing, structural designing, borewell, compound wall construction, waste water recycling tank, false ceiling, interiors, modular kitchen, smart switches to control fans & lights with mobile app
This house is located at Madhavaram, Chennai. This is a spacious 4BHK house built with an office and a small manufacturing unit in the ground floor and house on the first floor as per our client requirement.
Our architects have designed this house to recycle wastewater without the use of electricity. This wastewater recycling also includes water that comes out of the small manufacturing unit.
We have used AAC block technology for building this structure.
We have implemented smart home automation devices such as controlling of electrical appliances like fans, lights, TV, Ac etc., that can be done through a smart phone itself. 
Groundwater level of this plot was high. Water was found at 3 feet depth from the natural ground level. It was also a clay soil which made percolation of the water difficult
Since the water level was high it was very difficult to do the foundation work. We had dug up to a depth of 8 feet for the foundation. As we dug water became stagnant inside the foundation pits, so we had to keep on emptying it though motor pumps to keep the foundation pit dry and pour concrete in it. 
Ground Floor

First Floor

3D interior view

3D exterior view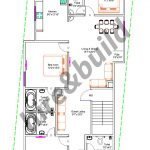 We take customers requirements carefully and details into consideration while designing the plans. For most of us building a home would be the biggest investment of a lifetime. A home is a place where everyone in the family would be loving in harmony. Hence designing a floor plan should not be done in haste. Each of the family member would have their own perspective of how the home should be. We take every family member's inputs into account and design the plan so. As a customer it will be hard to see your requirements as a floor plan, so when we design the plan for first time it might not exactly match our requirement. We understand customer perspectives, that's why we give multiple revisions to floor plan till you are satisfied.
Smart & green home built with modern architecture inside a gated community
2BHK house built in the first floor along with a 1BHK house built in the ground floor.
Created with heart;
built with mind