Owning a house in India is like everyone's dream and an important decision in one's life. When you have decided to build a house. You get a question right how much does it cost to build a house in India?
According to the data collected cost to build a house in India varies from Rs.1500-2000/- per sq.ft and you also should know that the cost to build a home could vary widely based on where you live.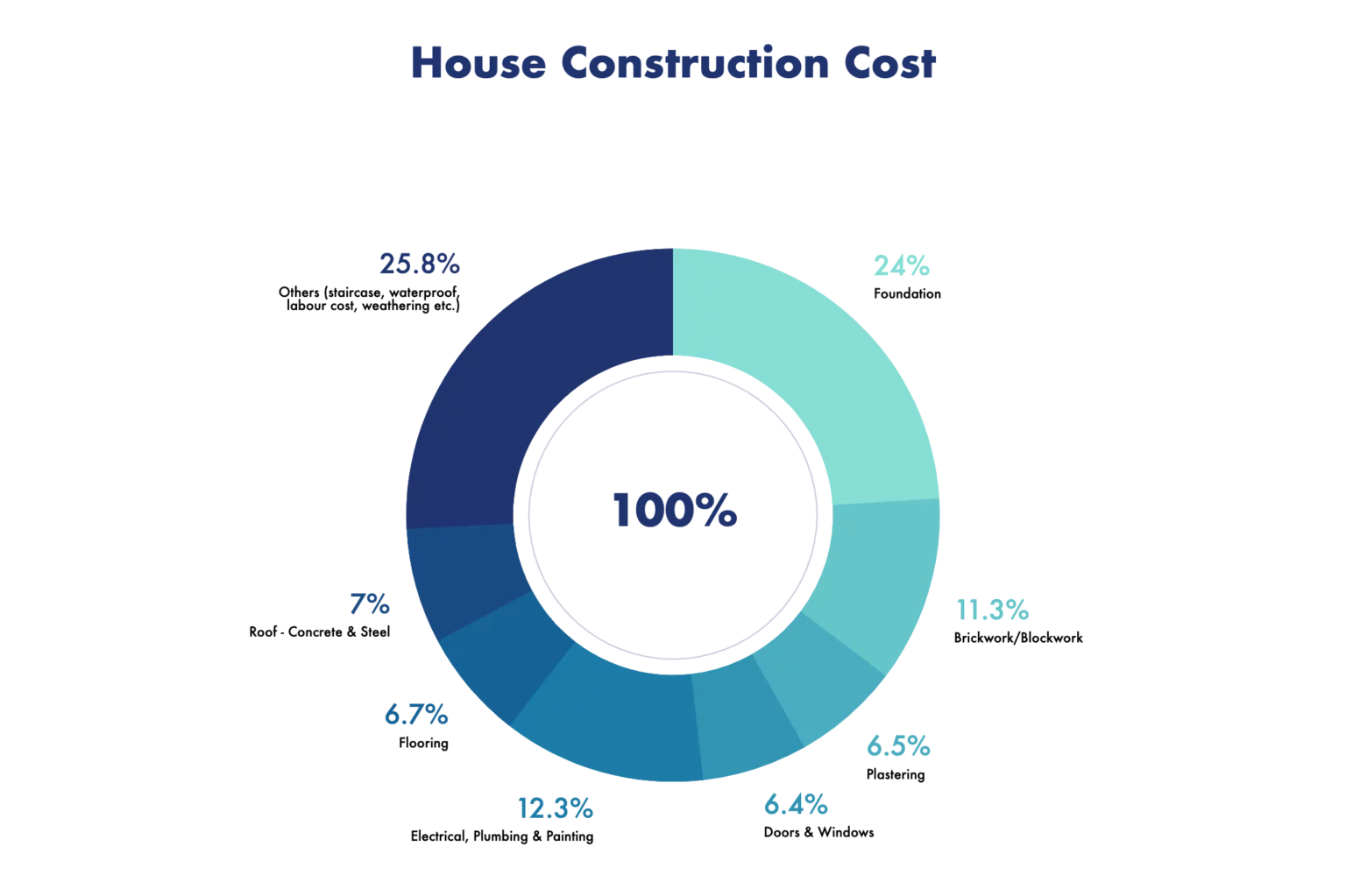 1.Main house construction cost involved in building a house
There will be a little difference in the cost of the house each year and here are some of the main costs involved in building a house.
Constructing foundation is the starting point when it comes to building a house. This is the one, which transfers the entire weight of the building safely to the soil. Excavation and foundation can account for about 24% of the total cost of the building.
In India for house construction, if you are going to get a bank loan you will get the bank loan amount only after the foundation of the building is constructed successfully.
Next comes the block or brickwork, it would account for about 11.3% of the entire cost. This includes the cost of the material (aac blocks or bricks) transportation and labour.
Plastering for the building alone will run about 6% of the home's total cost.
The shell of the house windows and doors accounts for 6.4% of the house construction cost. This cost also includes the grill provided along with the window.
Labour cost for plumbing, electrical and painting works alone accounts for 6%.
Plumbing, painting and electrical materials all together cost around 6.3%.
Flooring tiles can eat up another 6.7% of the entire cost of construction.
This is the final main cost involved in building a house, roof concrete costs around 7% of the overall cost of the structure.
Others items like staircase, handrail, waterproof, labour cost, terrace weathering and parapet wall accounts for 25.8%
Additional costs to build a house (not included in the cost per sq.ft)
Now that we have seen all the basic or main cost to build a house, it doesn't end there. Generally these costs are not included in the cost per sq.ft because these requirements vary from person to person.
For example: One customer may require compound wall on all four sides the other customer may require only on two sides. Each of them may have different height requirement when it comes to compound wall.
Likewise one customer might require septic tank, the other will not require septic tank as there will be a drainage connection.
Since these kind of requirements cannot be generalized for every customer, they are not usually included in the construction cost per sq.ft.
Here are a few more extra costs involved that you need to know.
First one is the cost of land or plot, this cost completely varies for each city and also within the city it varies based on each locality.
Let's take Chennai, for example, 2400 sq.ft land in Anna Nagar may cost around Rs.4 to 5 crores whereas in Kolathur it would cost around Rs.1.5-2 crores.
You'll need government approval for construction, of course-it varies from Rs.50,000 to Rs.70,000/- per kitchen in Chennai. Depending on each approval location this may vary.
You may also have to pay vacant land tax for the years the land or plot was vacant before you buy it.
In cities like Chennai, Bangalore, Mumbai for interior designing such as wardrobes, modular kitchen etc may cost you from Rs.600-1500/- per sq.ft depending on the area, scope of work, kind of work and brand of materials you choose.
If you are planning to go with solar for each 1kwh it would cost 1 lakh with battery backup, and without battery backup it would cost approximately Rs.75,000/- for hybrid solar power system.
For sump, the charges would be approximately Rs.18/- per litre and for a family of four would require a minimum of 10,000 litre and this costs around Rs.1,80,000/-.
If there is no drainage provided in the locality where your plot is located you have to construct septic tank and this would cost you approximately Rs.1,50,000/- for a family of four.
The basic cost of a compound wall is about Rs.800/rft for precast concrete posts with slabs and compound wall made with bricks with beams and column for 6 feet height from the ground level would cost about Rs.3500/rft. This cost includes the granite, marble or tiles on it(up to Rs.750/rft).
Next comes the cost of elevation of your house, this varies depending on the material we choose and design. Let me show you some examples below.
5.A simple elevation like this would cost Rs.30,000/- approximately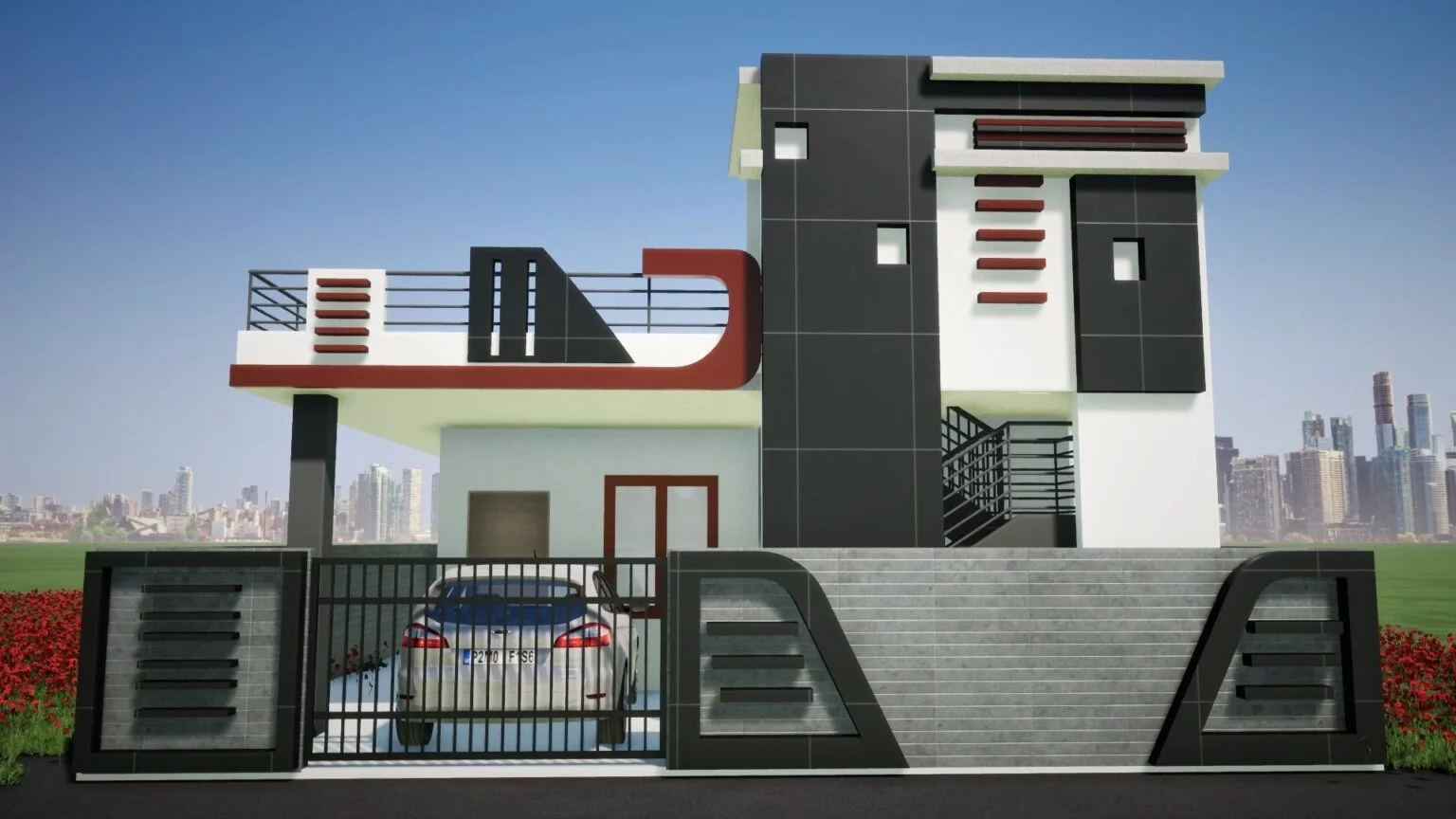 Whereas a premium elevation like this would cost approximately Rs.10,00,000/-.
Structural design and architectural charges would be somewhere about Rs.20/- per sq.ft so for a 1000 sq.ft it would cost approximately Rs.20,000/-.
Soil testing is really important to find out the strength of the soil in your plot and design the foundation accordingly. So for a pit, it would cost approximately Rs.10,000 and for 3 pits it would cost Rs.30,000/-.
Know more about us here